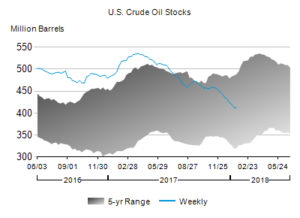 Source: EIA
Here are our predictions, with a caveat provided by Yogi Berra:
"It's tough to make predictions, especially about the future." – Yogi Berra
*Shale production will continue to fall short of analysts and investors expectations and our economy's needs.
*Shale and tight oil drilling programs' ROI of less than 1.5-to-1 will be exposed with close scrutiny by investors.
*Shale and tight oil production declining at a dramatic rate makes it difficult to get ahead of the decline curve.
*Reality will begin to sink in with investors and one by one they will get off the hamster wheel.
*The impact of electric vehicles on oil demand is overstated.
*As a result crude prices in 2018 will settle between $60 and $75 a barrel as more analysts realize that oil supply and demand are going to be more balanced in 2018.
*When U.S. refiners get back to about 90% capacity, we will see large draws from crude oil storage through year end that will remove the excess volume and drive oil prices higher next year.
The severe decline in capital expenditures in the conventional drilling sector over the last several years has resulted in a dramatic decline in exploration. Large fields are not being discovered. Yet global demand grows year-after-year by over 1.5 million barrels per day.
Enter the conventional prospects the industry has historically offered.
*These are drilled and completed for one-fifth the cost of a horizontal well.
*Many conventional wells will produce for decades providing returns significantly greater than those of shale wells.
*Energy prices for 2018 and the realization of the shale plays' poor performance will make conventional drilling attractive once again for industry players.
We drill vertical well prospects and have 100 of them in our library.
"Like" and "Share" this if you agree.
Charles A. Brown
T: 405.340.2363 | cbrown@ranken-energy.com
F: 405.340.2365 | www.ranken-energy.com